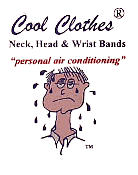 Cool Clothes neckbands help prevent heat stress, and gives relief from fevers and headaches. Heat stress occurs when your body is unable to cool itself either by sweating or by increasing blood circulation to the skin. Heat exhaustion, cramps, rash and stroke, and fainting, are all forms of heat stress.
Simply soak the cool clothes in normal tap water for approximately 5 minutes. Wipe off excess water but do not squeeze. Apply cool clothes to neck or forehead.
We provide Cool Clothes in many different themes such as flower and garden, airplanes, and bugs. We also manufacture them in plain colors - dark blue and light green.
If you have a preference, please indicate it in the optional design request box when you order. If we have the design in stock, we will fulfill your request. You may also inquire about new designs through our Contact Us page. Cool clothes are constructed of cotton fabric and filled with super-absorbent gel crystals classified as non-hazardous by OSHA.
$10.00 plus tax if applicable.